Mighty Heart Open Course (Fall 21)
"A life changing experience that will remain with you always. Highly recommended to anyone invested in being part of a new, heart-centred way forward."
– Aryn Guiney, Producer specialising in Online Courses, South Africa
Mighty Heart Open Course (Fall 21) -
Join the course
10-weeks course to develop your inner power by cultivating awareness of the necessary skills for the transformation of conflict

September 7 to November 9, every Tuesday from 14.00 to 15.30 GMT
The current crisis requires us to utilise every possible capacity of ourselves, most particularly the power of our own heart. As the secret to all transformation, the heart is indeed our greatest engine to move from anger and anxiety into action.

The Mighty Heart Open Course invites you to learn from peacebuilders and experts in service of some of the most challenging conflicts around the world. They will help you become a more effective changemaker by transforming conflicts and crises that may be internal, at family, organisation or even at national level. We combine two streams of wisdom:


1. Profound knowledge and training in the practical skills of conflict transformation.
2. Decades of peacebuilding experience and expertise.



"One of the most powerful transformation and growth processes that I have experienced in community. The energy field, wisdom and alignment of this program is amazing."

– Aleka Vial, Journalist and Executive Director and Founder of Fundación Hypatia, Chile
Your Journey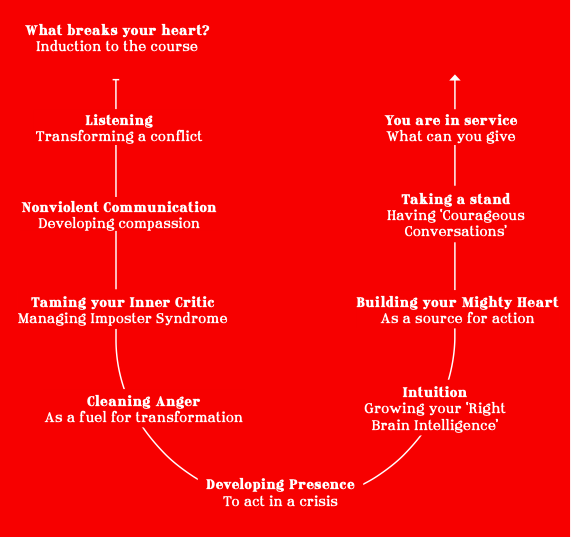 The Open Course is for people of any age and background who want to build a safer world – whether in their personal life or globally.

Over 10-weeks we meet in weekly workshops, delivered by different peacebuilders and experts from the field. You also get to work with other participants in triads. The course provides you with the skills and tools to meet and transform whatever conflict or crisis you're facing. You will receive video and notes of inspiration every week and exclusive access to the latest version of the Mighty Heart workbook. On graduation, you're invited to join our community of change-makers meeting once a month and apply for the facilitator training to deliver the Mighty Heart with us.
"The Mighty Heart Course has enabled me to live from my heart and with more authenticity, compassion and listening. Its intense 10-week journey is a must for those who are curious, who want to make a difference and want to further our collective work towards building a better future."
– Ankur Kamalia, Former Managing Director at Deutsche Börse Group and UBS, UK
"As a practitioner with over 35 years of experience in coaching, training, team development and facilitation of change processes, I see tremendous value of the Mighty Heart Course."
– Helga Lensch, Executive Trainer and Journalist

Workshop Dates
These are for our live sessions together as a group. In addition, you will meet with your triad once a week at your own time and follow the materials shared with you. We recommend a total of 6-8 hours of time investment each week.


| | |
| --- | --- |
| 7 September | 1400 to 1530 GMT |
| 14 September | 1400 to 1530 GMT |
| 21 September | 1400 to 1530 GMT |
| 28 September | 1400 to 1530 GMT |
| 5 October | 1400 to 1530 GMT |
| 12 October | 1400 to 1530 GMT |
| 19 October | 1400 to 1530 GMT |
| 26 October | 1400 to 1530 GMT |
| 2 November | 1400 to 1530 GMT |
| 9 November | 1400 to 1530 GMT |
Course Fees*
Regular Rate (£1,500)
This rate applies to all participants working in for-profit organisations/engagements with a relatively high income.

Reduced Rate (£875)
For individuals with an average income from non-profit organisations/engagements and young professionals.

Scholarship (£250)
Our scholarship is only for peacebuilders and students from countries with a low average income.
*Note that the fees are in three tiers to allow people to participate independent of their current incomes. In the very unlikely event that we do not get enough participants to launch the course, we would make sure you receive back the full rate.

You can email our lead facilitator Fritz Lensch at fritz@planforpeace.org for any remaining questions.
Testimonials